Are you a 90's baby nostalgic for some butterfly hair clips and group choreography music video scenes in a warehouse setting? Then go relish in the stunning 90s inspired official music video for "All In" from rising singer/songwriter Jenny March, the second single off Jenny's forthcoming 2021 EP, about meeting someone and the type of chemistry that flows strong from the start.
Directed by Colton Tran, and inspired by Jenny's own 90's baby memories, the theme and visual aesthetic is a giant salute to the music, fashion, imagery and style of that dreamy decade. Written about that ride or die love of your life, "All In" encompasses that power couple type of romance that makes you feel like you can conquer the world together. No obstacle stands in the way of the love shared, as both parties are "all in" no matter what.
This Ohio-born, Los Angeles-based songstress is a self-proclaimed "open book" and writes lyrics like she's texting. Her sound and vibe is pure pop, but her aim lyrically is to be honest and unafraid to allow fans, particularly her female fans, to not be afraid of living unapologetically and having just as much fun as anyone else.
Keep up to date with Jenny and her future pop bobs by following her Spotify and Instagram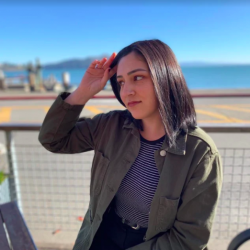 Latest posts by Sadie Battle
(see all)