New York City-based band, Imaginary People, are pleased to present their new single "1999 – Just Vote" as a public service message to encourage fans to get out and vote. You guessed right – it's a Prince Cover and you didn't know you need it until you listen to it. The accompanying music video has one clear message that's delivered by Leila Rita, who stars as the uninspired yet serious voter of today. Leila is actually a family member's niece, and as she holds her handmade sign for the entire duration of the video that reads "VOTE", her serious glare is enough of a reminder of the many reasons to get out there and vote today.
The band originally had begun the promotional campaign of their third LP back in February. With the Covid-19 pandemic halting their original scheduled releases, fans can now expect the release of a few singles in the next coming weeks. The forthcoming album Alibi is expected in 2021. Fans can stream two pre-release singles now, "Hometown" and "Crazy Eight" on all streaming services.
About the song and video Imaginary People's Dylan Von Wagner says:
Using an old unused cover of 1999 recorded years and years ago, I thought this song might be appropriate for the moment for election day in the current climate of shit show theater that we live in. We ended up with just one take which myself and my wife [The DP] had a tough time keeping a straight face for. We didn't count on Leila's spot on commitment to character and her unwavering sober glare. After one take, she said "I got it, I'm done with show business," and walked off…..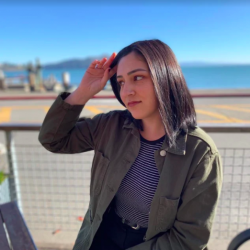 Latest posts by Sadie Battle
(see all)