While clubs and after hour parties are still unfortunately on hold this year, there are no restrictions on anyone still craving music that channels a good time. New York reigning electro/rap artist Heather Hills is definitely serving up a good time with her new song "Get Dun". Just over the four minute mark, it's an infectious dance track blended with Hill's witty, confident rap verses and a humble beat sprinkled with an 80's twist. Her verse on getting ready shows off her high intensity and independent charm, "Treat it like a first date / Throw on the paint, brush out the mink / The lashes to blink, lip nude kinda pink".
Heather Hills is on the artist lineup of Trans Trenderz, a black trans owned organization aiming to help trans artists achieve mainstream success while feeling empowered and respected for who they are. On being signed to this label, Hills was elated at the chance to truly be herself and make the music she wanted to. "Life taught me that everything that I am will hinder my progress. If I wanted to move forward successfully, I would have to mold myself into an ever-changing idea," she says of her time putting out music before this new endeavor. "This opportunity, to me, presents itself as an award for always refusing to conform. It represents the value in following your OWN path and showing the world that what makes you different, makes you powerful".
Stream "Get Dun" today, and check out the new music video for a euphoric look into her mood and style.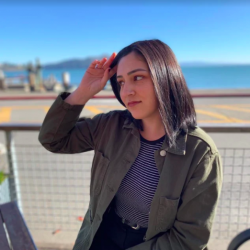 Latest posts by Sadie Battle
(see all)