Regardless of how much effort you put into a relationship, sometimes it's just not meant to work out.
San Francisco-based songstress Floyd expresses this painful reality with the video for her latest single, "Shadow Self (The Best That I Can)." The alt-country pop track, produced by Ed Clare and Georgann Ireland for Nova Noir Productions, is the first offering from the singer-songwriter since she released the holiday-themed "Christmas (Baby Please Come Home)" last year.
As her musical influences range from feminist pop icon Tori Amos to new wave rocker Cyndi Lauper, it should come as no surprise that the visuals radiate a sense of vigor and determination as she performs the song in all-black attire.
Regarding the title of the single, Floyd says that the shadow self has to do with how everyone is doing the best they can in every moment and how sometimes their best is frankly not good enough for someone else. "That is a hard truth, but it's an honest one," she said. "And I think being honest should count for something."
Watch the video for "Shadow Self (The Best That I Can)" below!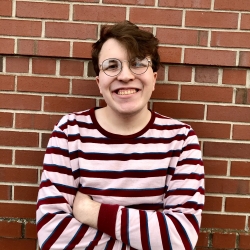 Latest posts by Richard Andrus
(see all)