The indie pop world welcomes new talent Elise Eriksen with her debut single "Less" featuring Shoffy, a song already proving that new fans will only want more and more from this young and talented soul. Norway born, Manhattan raised and LA based; 17-year-old Elise Eriksen juggles her schoolwork with her passion for writing and recording songs. After devoting years to playing piano, refining her vocal skills, and honing her songwriting craft, the 17-year-old has mined inspiration from artists as eclectic as Stevie Nicks, Alicia Keys, and Don Toliver to form her own emotionally honest yet feel-good form of pop.
The bass-heavy grooves and subtle 80's texturing on "Less"  bittersweetly complement the verses Elise and Shoffy trade on feelings around growing apart in a relationship. Elise's vocal presence is this bright, up-tempo force that stays with the listener throughout the entire song. The harmonious balance of the lyrics delivers the hope still within the relationship with this verse: "'Cause I want less space between us / Less room between our skin and the bed / Less ways to keep us / From drifting apart the way that we did."
With more music to come, make sure to keep an eye on Elise as she gears up for an exciting 2021! Stream "Less" today and keep up to date with Elise Eriksen on her Instagram page.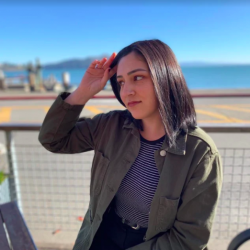 Latest posts by Sadie Battle
(see all)