Desert Liminal just released their video for their song "Watercolor" from their upcoming LP Glass Fate, which comes out November 19.
The transitions from the paintings to real life were one of my favorite features in this video. It definitely screamed, "life imitates art!" Creatively, it was a really smart decision to add that in because it really added something different into the video. It was really cool that the paintings being present in the video matched the lyrics as well, since they talk about a painter.
The song itself has a meditative and vibey composition to it, which is portrayed rather well in the music video. It has a very nature-esque feel to it as well, and most of the shots take place in nature. In just about every scene of the video, there was some sort of nature competent present. Whether that be the real life outdoors, flowers in a vase, or a tapestry of a field on the wall, it is easy to tell that nature was a big inspiration here in this video.
Make sure to check out Desert Liminal, as well as the music video for "Watercolor," and be on the lookout for their LP Glass Fate on November 19!
Written and performed by Desert Liminal 
Produced by Robby Haynes and Ziyad Asrar at Strange Magic Recording
Directed and Edited by Sarah Jane Quillin 
Paintings by Kerry Couch
Featuring Mallory Linehan and Kerry Couch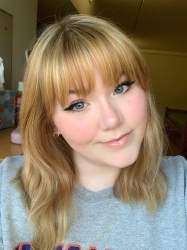 Latest posts by Ally Ferrari
(see all)