As Italian singer-songwriter Alice Bisi revs up for the release of her third LP, her new track "Hyperdrive" gives a taste of a new direction for the alt-pop artist. Though Bisi, or Birthh, is based in Brooklyn, her music sounds as though it originates from the fourth dimension, cleverly using synths and fast tempos to transport listeners through musical wormholes.
It's hard to believe that the high-octane "Hyperdrive" started out as a slow ballad. When Birthh was having trouble perfecting the song to her liking, she enlisted the help of her trusted co-producer London O'Connor. After a year of tweaking in the studio, "Hyperdrive" morphed into an upbeat, euphoric depiction of Birthh's inner world and dreams. The verses are poetic in nature, with such lyrics as "I'll chase your face, to infinity and beyond" and "spinning round, galactic dancer", as the speaker experiences a whirlwind romance with hopes of reciprocation from the beloved.
This track keeps the listener on its toes, constantly adding new layers and advancing the intergalactic journey through Birthh's heart. After the verse, the chorus shifts into the titular "Hyperdrive" mode, with rhythmic variation, a denser musical texture, and an earworm of a melody. The synths, percussion, and high-pitched strings interact with the vocal samples in a bouncing vortex of musical interest. The closing portion introduces a slew of new aspects, with piano chords interrupted by vocal samples of other voices besides Birthh's, as though it leads into another track. As of now, we can only speculate what might come next.
Birthh's anticipated Moonlanded album is set to release on September 1 and is now available for preorder. Moonlanded is sure to be an epic ride, chronicling Birthh's emotions around her birthplace in Italy all the way to her new home in Brooklyn. Meanwhile, stream "Hyperdrive" on all platforms and check out Birthh's backlist of songs.
Can't wait for Moonlanded? Give "Hyperdrive" a listen while you're waiting!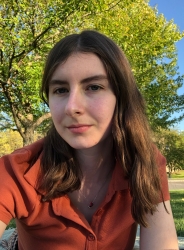 Latest posts by Caitlin Moehrle
(see all)