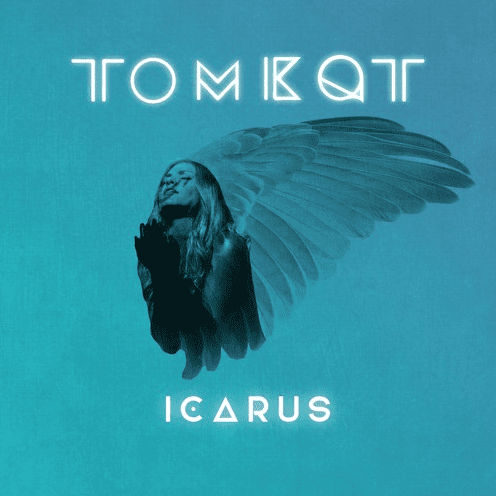 As Texas' indie/electro-rock/pop collective TOMKAT – comprised of Katrina Cain, Andrew McMillan, Mike Luzecky, and Jonny Harmon – prepares to release their captivating 9 track album Icarus on Friday, October 13th, they're prepping a couple of live dates surrounding everything. They're no strangers to the spotlight, as their debut single "Big Love" was placed in James Franco's 2016 film Actors Anonymous, but we will argue that they haven't seen their peak yet, as Icarus marks their full-length debut. And we're excited to see fan reactions, as we've gotten the chance to peak all the new tracks and we're solidly digging the soothing, trance-like feeling we get listening to the layered, smooth tracks. Katrina's vocals will ensnare you, whether she's bringing you up or you're "Drowning" together.
But before you get the chance to hear what they've got in store, we got to throw a few questions at the band. Peep the interview below, along with latest single "Teardrops" to give you a little taste of what's to come.
What is the first song or album you ever remember hearing, and who introduced it to you?
This is such a great question! When I was a kid, we moved around a lot. I think I moved 6 times before I turned 7, which made for a lot of road trips. We also never flew anywhere, so I have very specific memories of very long car rides across the country. My dad would make mix tapes of music he liked, and that's what we listened to in the car when we got tired of NPR. My mom claims he played Willie Nelson and James Taylor, but I very vividly remember "America" by Simon and Garfunkel, and "Sympathy for the Devil" by The Rolling Stones. That was the music my dad listened to, and it's the first music I ever remember hearing.
Your track "Teardrops" off the upcoming album Icarus has been garnering quite a bit of attention with its soulful, laid back vibe, though the lyrics are a bit more involved than that. What inspired that song, specifically?
All of our songs start out with one concept and kind of morph and settle over time into their final, recorded version. "Teardrops" started with just a groovy chord progression, and in rehearsal we would play it over and over again while I sang random syllables that would later turn into actual lyrics. The one lyrical concept I kept coming back to was the line "I've been flying so high, I've been falling to Hell." I couldn't get that feeling out of my head. The harmonic and melodic content of the song really felt like a happy, laid back feeling of soaring, but in my personal life I felt the exact opposite. I wasn't where I wanted to be in life, and it felt like everything was falling apart. That's how the song turned into this strange sort of juxtaposition, you've got this outside shell where you pretend all is well, but inside you feel like you're a failure. That's how the song came to be.
"Persephone" is such a mesmerizing track, though it's told from the perspective of a woman's abductor. What made you choose to go that way with the lyrical content? (Also… Persephone was always one of our favorite characters in Greek mythology.)
I have always loved the story of Persephone too! Writing this song from the perspective of Hades was actually unintentional at first. I had wanted to write a song based on Persephone for quite some time because I wanted it to be an allegory for the female experience. I sat down to write the lyrics and pretty much did it about 10 minutes. I had always intended the song to be a feminist statement, I wanted to tell about the horror of being objectified and imprisoned. But when I finished and read what I had written, the story was quite the opposite. In my initial intent, the abductor's voice (promising to treat her well and repeating "Say you love me!" over and over again) was meant to be dangerous, manipulative, and unstable. However, it also made me consider an alternate version of the story, that perhaps Hades was simply in unequivocal, undying love. And perhaps Persephone loved him too and was happy to make her life in the Underworld as his queen. I decided to leave the lyrics unedited, exactly as I first wrote them, and my hope is that no matter how the listener hears the song, he or she will take away some kind of meaning that is different from how he or she has previously thought of the story of Persephone.
You recorded the upcoming album over a year ago, and had all of the material prepared even further in advance of that. How ready are you for the world to finally hear it in its entirety?
We honestly feel like we have never been more ready for anything! We're almost sick of our own songs at this point! But isn't that how it always goes? We are super excited for this baby to be out in the world and hear what our friends and listeners think of the songs in their studio-quality state. Once that day comes, we'll be able to breathe and take a nap.
Do you have a favorite track off of the album?
"Persephone" is definitely my favorite track. We ultimately decided not to make it a single, but I'm still planning to share that track specifically and make a music video for it after the album release, because I think it deserves that.
Did you choose to release this album 

on Friday the 13th

 for any particular reason, or was it just a crazy random happenstance?
The choice to release 
on Friday the 13th
 was kind of an accident, but when the date came up I thought, "Hell yeah! Let's do it!" Maybe it will be good luck. (I don't have a lot of superstitions…)
If you could have any superhero help you promote Icarus, who would you choose and why?

Wonder Woman! Because powerful women will save the world.
Anything else you'd like to add?
Icarus will be available on iTunes, Spotify, Bandcamp, and pretty much every music sharing app available!
___